Historic Location
Establish your business inside this historic building on the corner of Caroll St. and Main St. in Palmyra, NY. Over 13,000 vehicles pass this location every day. Special features include a two-vehicle, parking or turn-out section next to the antique gas pump for possible curbside pick-up! The restored antique gas pump is a landmark known to all.
High visibility, eye-catching, well-maintained brick and block building features 60+ feet of insulated plate glass display windows on three sides of this building.
Retail Counter / Display Case
Beautiful woodwork throughout the space with lots of potential. Interior features include 11-foot ceilings, architectural lighting fixtures, ceiling fans, restored hardwood floors, wainscot, service counter, large open areas for display or seating, private meeting room/cozy seating and meeting area, one custom unisex bathroom, unique floor plan and a double-entry vestibule which controls drafts.
Built-in Display Case for special attention.
Kitchenette / Office
Utilize the small kitchenette for lite food prep in cafe or coffeshop style eatery, or remove the wall for larger retail or professional space.
Private office or breakroom for employees. This section of the Village of Palmyra is Zoned C-1, which allows a wide range of business types, including Bar/Tavern, Personal/Professional Services (Lawyer, CPA, Massage, Counselor, etc.). Restaurant/Bistro/Coffee Shops and Retail.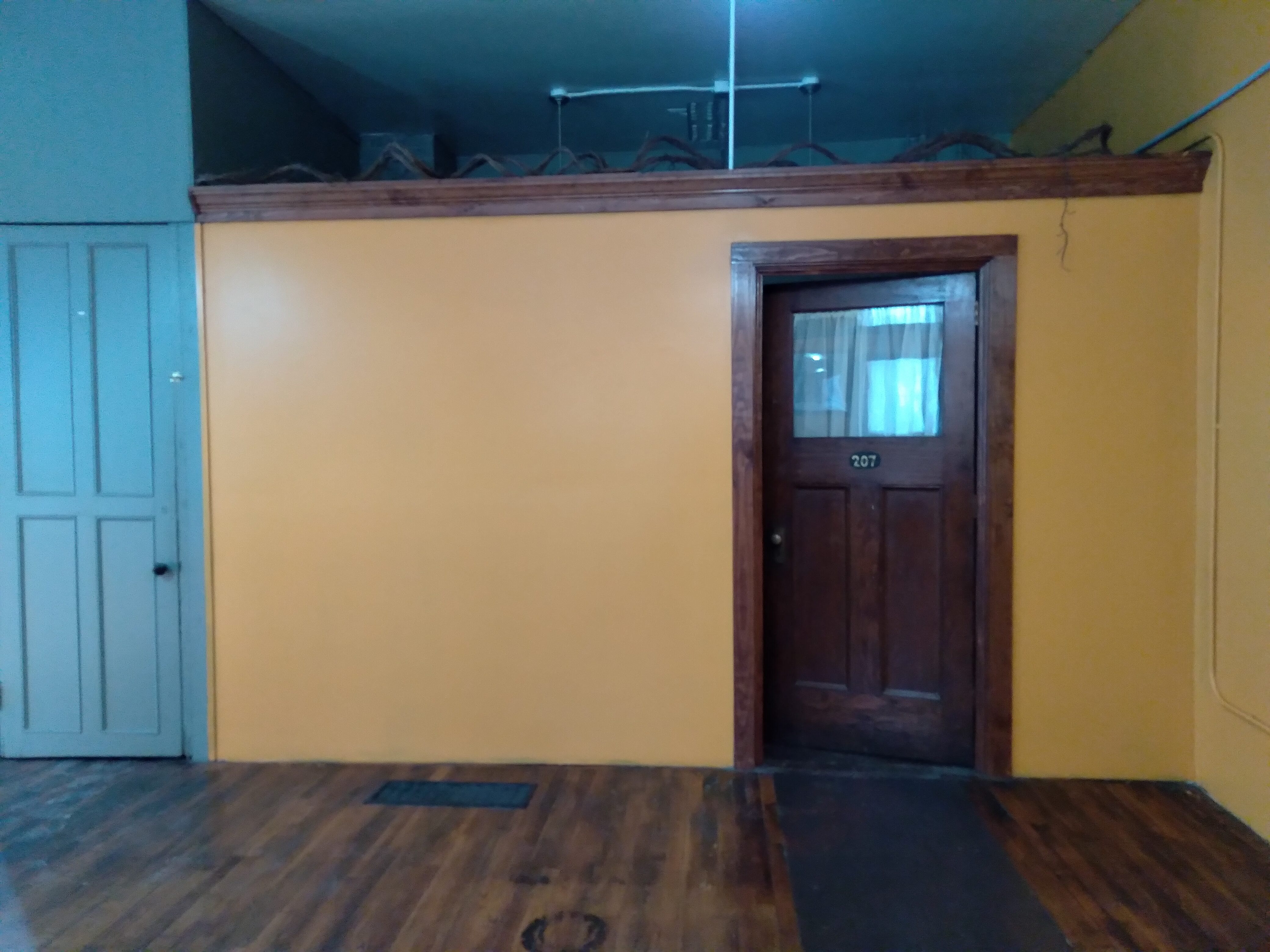 Showroom / Private Room
Grand showroom with great windows for lots of visibility from the street. Plate glass windows are Low-E and argon filled. Building is also outfitted with high efficiency gas heat, central air and 200-amp service. First Floor layout includes access to ground-level entry via an overhead door for receiving larger items.
Plus a cozy Private Room for professional consultation.
Details of the Lease
Lessee responsible for:
• Gas/Electric (NYSEG)
• Business Insurance
• Cleaning and General Maintenance (Snow removal, sidewalk and turnout)
• Monthly Lease Rate Options: 3-yr at $1200 OR 5-yr at $1100 for first 3 yrs & $1200 last 2 yrs
• Property Tax Escalator above current base (% of increase per year)
• Water/Sewer (billed per qtr)
• Interior changes with owner agreement
• Any other necessary utilities for business, e.g. internet connection.
Lease includes high-efficiency forced-air nat. gas furnace and central A/C. Cable/Internet ready access.
Lease options are negotiable, renewable, and can include right of first refusal.
Contact for Showings & Negotiations
Deb Hall, Back Bohne Business Support, LLC
deb@backbohne.com
315-576-0415 call or text
Building address is 235 W Main St. Palmyra, NY 14522